Your Business, Your Temple
September 12, 2016 | Industry
"I just haven't had the time," those famous words spoken by everyone at some point.
Just the other day, I was messaging a potential client and old friend about a referral she passed along to me. As we spoke she sarcastically commented that she is still "the only business without a website". She claimed to be too busy with clients and other projects, leaving her unable to get back to us about creating a website.
How many times have we all been there, in business or in everyday life? We become preoccupied with client projects and day-to-day operations. We find ourselves too busy to perform any kind of assessment of our own marketing material or understand the perception our customers have of our brand.
What I have learned over the years is to treat your business like your body. Your body is a temple. We all invest in ways to keep our bodies healthy: vitamins, a well-rounded diet, exercise. We should really be treating our businesses with the same regard. Update your website! Redesign your marketing material! Everything should be consistent. Your brand image should be speaking to your demographic if you expect longevity in your industry.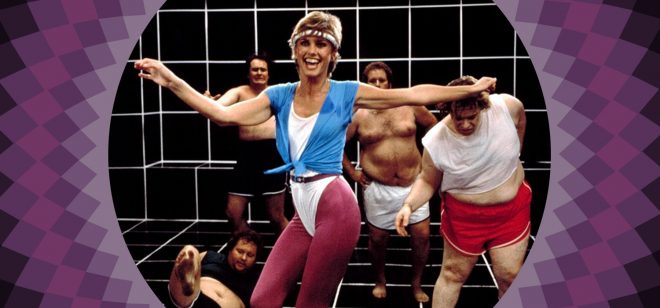 Olivia Newton John set the bar high in "Let's Get Physical"
I wrote a previous blog titled "Image is Everything". It speaks to one of the crucial aspects of your business: your image. From your logo to your website to your overall marketing material, it's important to keep your material current and relevant.
Doing a marketing audit has always helped us. It's similar to having a check up with your doctor. Do you need to review your brand image? Is your logo out of date? Could it use a refresh? Is your website responsive? Does your brand communicate the right message? How does your sales material look? Does it give your sales team the confidence to distribute to potential clients?
It may seem like things are stable right now. You're busy getting projects and clients are happy. But this is the best time to have all your marketing material and brand image up to snuff so that you can keep the momentum going.
When your brand image is up-to-date, polished, healthy and strong and it doesn't look like you're still doing business in the 90's, people will notice. Your demographic will understand that you have taken the time to put the effort into your own business. This in turn will send the message that you will do the same for them. After all, your business is your temple, one you want filled with clients praising your work for them.
---
So how about it? Let Generator get your brand into shape and call us today!
---