A Child at Heart
April 15, 2016 | Announcement
Introducing: Jess Jagmin, Graphic/Social Media Specialist with a PhD in Minecrafting
WAKE UP AND BE AWESOME. That's what my pink nightgown says in large, fun block letters. Maybe it's my attraction to typography or my desire to have a great day from the moment I open my eyes, but I never outgrew cool pyjamas. I no longer have the frosted marshmallow cereals paired with 90's Saturdays mornings. Those days have since been subbed out with omelettes, health supplements and the weather report. Yet, I look around my house and am amused by the choice – the compulsion – of decor, nods to the youth I will never outgrow.
I'm Jessica. A 30-year-young creative with nine years in the industry. Ever since I was a toddler, art has been my focus. Quick and meaningful scribbles depicting life as I saw it. If I didn't have a writing utensil and a scrap of paper to illustrate the goings-on of my mind, I'd find an alternative. Lipstick art on the bathroom mirror. Dirt from the houseplants formed into a rudimentary castle on the coffee table, much to the frustration of my parents, of course. But I had to express myself and they supported me. My family provided me with colouring books, sketch pads, paints, and modelling clay, anything to get the idea of the minute out and calm the creative beast.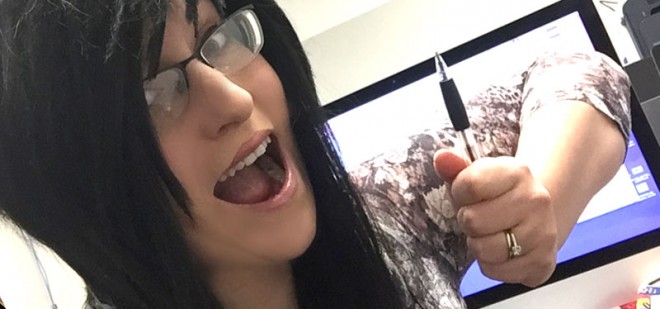 Getting ready to doodle!
Creativeness didn't end at my small red drawing table covered in crayon marks. I noticed everything. I recall logos, slogans and jingles clear as a bell from the age of four. My brain habitually zeroed in on any signage, labels or commercials, eager to file it away for later. This was my world and it was magical! I kept to myself in grade school, unable to relate to most people. I had art, a means of vibrantly spelling out how and what I observed in the world around me. Dinosaurs, video game characters, nature landscapes, machines, people, and more, filled sketchbook after sketchbook that I lived in. High school led me to like-minded budding artists where I finally felt safe in my passion. Teachers encouraged me every step of the way to hone my skills and develop as an artist. By Grade 12, I knew my calling.
Chef training! I had worked in the food service industry for five years and thoroughly enjoyed the routine of cooking chicken. I dreamed of one day running a restaurant of my own. The vision was a cafe, selling specialty baked goods and beverages, my art hanging on the walls. But I couldn't wrap my head around the business aspect. I just wanted to show up and create things for people and make them smile. I applied to college a year out of high school. Chef Training, Culinary Management, and a field recommended by my teachers: Graphic Design. Whichever one I got accepted to first would be my direction.
The acceptance letter came and I stood frozen. I was to be a designer. In the following days I learned I could have been a chef or restaurant manager. My resolve has always been strong, as backing down from a challenge isn't something I easily entertain. I enrolled, bought a treasure trove of unfamiliar supplies I didn't understand, books with terms I never heard of, and sat down to software that dumbfounded me. I longed for my small red table and crayons.
Each year of Graphic Design transformed my train of thought. No longer were my sketchbooks filled with the polished drawings from years of practice, but instead with fast doodles, illegible thoughts and clippings from magazines. Those logos and slogans and jingles of my memory had a tangible place on the sheets, where for the first time, I visually assessed and challenged them. I could do better. By third year, Adobe Creative Suite, a pen and a notebook were my new arsenal. Drawing a dragon because it'd be fun to seemed trivial now. I'd rather make a logo for the book the dragon was in. But I had a sinking feeling about it all. Had I lost touch with my younger, uninhibited artist? Gone were my muses, the days of marshmallow cereal and play dough?
Certainly not. The transition was necessary, but my world was very much the same. I needed the challenges and application. My whole life I had drawn influences from the world of Graphic Design without even knowing it. College put a frame around it for me and I hung it on my wall. The journey itself was art, now hanging beside paintings and posters and all sorts of inspiration. I smiled at the epiphany. Design was my childhood, and therefore childhood was with me.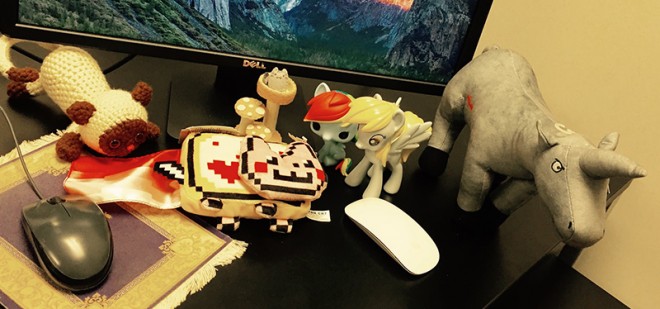 Some of my co-workers
So here I am settling in at Generator, basking in the light of two monitors and surrounded by colourful figurines and cute plush toys – nerd nesting materials. I am happy here. I look forward to each day, scheduling social media posts, writing creative copy, drawing and designing, even animating with whiteboard markers. And being able to draw for the blogs is great. I specialize in vector art and prefer to draw using a mouse. I feel I am in design nirvana, a place where I can apply my brain and personality to a multitude of projects. I knew a week ago that writing was fun, but now I find it as much fun as designing and cooking. For the first time, I feel as though all the ingredients are coming together.
Today at Generator, my task was to write about myself. Looking around my desk it isn't hard to tell I'm a kid at heart, with My Little Pony figurines keeping watch and a new Japanese collectable appearing each day. I also make time to add myself to the design mix where possible. I've learned it's a balance. I apply my knowledge and experience to projects. I build on brands, goals and needs. I give clients what is best with the best I can offer. I design to make people happy. I find happiness, too, in knowing I've returned to scribbles in my notebook, not so different than those of a four-year-old aspiring artist.
---
And now, some Generator Q&A!
Generator: What is your favourite program?
Jess: Adobe Illustrator. I love producing vector stock. It's a real challenge to make something photo-realistic in vector format.
G: Would you rather be the size of a bug or the size of a giant?
J: The size of a bug. I like to eat a lot, and as a giant I would be devastating.
G: What are your hobbies/interests?
J: Design! And well there's cosplay (I make costumes and wear them at anime conventions), walking, nature photography, retro video games, sculpting, drawing, writing, researching, health, cooking, anything cute or macabre.
G If you could have any super power what would it be?
J: Controlling the elements. We'd be in summer by now.
G: You walk to work every day, how far do you walk? Why?
J: It's a 45-minute hike each way, so I walk about an hour and a half each day. Exercise is important to any designer. Read more about that here.
G: What Pantone colour best describes you and why?
J: 18-3224 Radiant Orchid. I love orchids, the colour purple, and to me it is the colour of balance and harmony.
G: How does your love of anime influence your design style?
J: I don't make everything into anime, but I do look to Japan for inspiration. What happens with design and fashion there takes a few years to catch on here. I like to stay on top.
G: If your personality was a submarine sandwich, describe what would be in it?
J: Like, everything. Except for mushrooms, they're gross.
G: If Lion-O from Thunder Cats and Strawberry Shortcake were in a dance battle, what three criteria would you award a clear winner?
J: Originality, Aqua Net, Meme-worthiness.
---