Event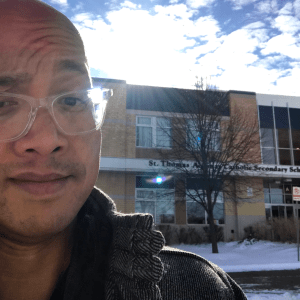 Published on January 16, 2019 12:55 pm | event
It's one thing to come into work inspired each day as a designer; being asked to inspire minds is another! Nevertheless, Generator Design Partner Jose Guzman hopped to it and headed to London, Ontario for a unique teaching opportunity.
Arriving at St. Thomas Aquinas Catholic Secondary School, Jose headed to a welcoming Grade 10 class to speak to business and entrepreneurship students, among which was his nephew. The topic of the day: How did you become an entrepreneur? To some, it can seem that it just happens as an immediate success; having experienced the growth of Generator Design, Jose knows it as anything but. Now, where to start?
"Speaking engagements still make me nervous," says Jose. "I was relieved to have my nephew in the class—having a teacher there helped, too!" Sometimes, being a creative means getting out of your comfort zone and onto a new playing field.
---

You need to be the hardest worker in the room to reach your goals.

---
In the creative field, it's important to know your audience. When that target happens to be Grade Ten business students, you need to adjust your tone to draw their interest—and drawing on their interests can be very effective. "To keep the students' attention, I used engaging visuals, spoke informally and with humour, which I've found are effective tools in delivering information."
With the aid of an engaging Keynote presentation and wit, Jose had the full attention of the class, discussing everything from what is involved in starting a business to meeting goals on a daily basis. The questions from the students were thought-provoking:
"How do I make a business out of doing what I enjoy?"
"When would you say that your company started to take off?"
"Was there ever a time you failed?"
"Absolutely, there are times where you fall short," Jose admits, "and those are the experiences you take the most from." Jose emphasized that hard work always trumps talent; trial and error should be expected in starting and growing a business. "You need to be the hardest worker in the room to reach your goals."
Relevant in an age of overnight success, Jose explained that the glory of instant success and celebrity is, in reality, few and far between. "Our instant access in the digital age has set our minds to believe that success can be pulled off a shelf." He elaborated that expecting your business will take off sets you on a path towards failure. "Be realistic. Working hard and smart is key; slow and steady wins the race."
Jose imparted upon the class to pursue entrepreneurship with enjoyment. "If you choose to be an entrepreneur, do something that you love to do. Don't spend your life working toward materialism; as cliché as it may sound, always do it for what brings joy and happiness. Be patient. If you invest in your work, you'll be rewarded with good things and important takeaways which will separate you from the one hit wonders."